Type BW8 Straight Tools (Carbide Mandrel – CBN Throughout) - Resin Bond
00001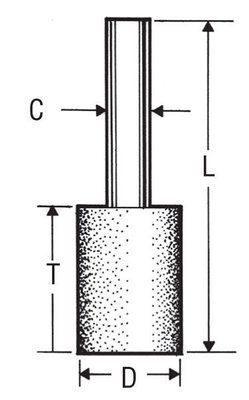 W8 Straight Tools
Special Mandrel sizes and wheel shapes can be provided according to your specifications, for a minimum charge.
On one order totaling $1,000.00 or more, a 5% discount, coupon code DIAG1000
Grit sizes shown are standard. 60-500 grit sizes furnished on standard wheels at no additional cost. Additional grit sizes available. Prices on request.
# 113^ | D: 3/32 | T: 1/8 | C: 1/8 | L: 1-1/2 | Bond: Resin | Grit Size: 180 (0)
# 114^ | D: 3/32 | T: 3/16 | C: 3/32 | L: 2 | Bond: Resin | Grit Size: 180 (0)
# 115 | D: .115 | T: 3/16 | C: 3/32 | L: 2 | Bond: Resin | Grit Size: 150 (0)
# 115-X^ | D: .109 | T: 3/16 | C: 1/8 | L: 2 | Bond: Resin | Grit Size: 150 (0)
# 116^ | D: 1/8 | T: 3/16 | C: 3/32 | L: 2 | Bond: Resin | Grit Size: 150 (-3.5)
# 117 | D: 1/8 | T: 1/4 | C: 3/32 | L: 2 | Bond: Resin | Grit Size: 150 (-1.5)
# 118 | D: 1/8 | T: 1/4 | C: 1/8 | L: 2 | Bond: Resin | Grit Size: 150 (2)
# 119 | D: 5/32 | T: 3/16 | C: 3/32 | L: 2 | Bond: Resin | Grit Size: 150 (-3.25)
# 120 | D: 5/32 | T: 1/4 | C: 1/8 | L: 2 | Bond: Resin | Grit Size: 150 (-1.25)
# 121 | D: 3/16 | T: 1/8 | C: 1/8 | L: 2 | Bond: Resin | Grit Size: 150 (-3.5)
# 122 | D: 3/16 | T: 3/16 | C: 1/8 | L: 2 | Bond: Resin | Grit Size: 150 (-3)
# 123 | D: 3/16 | T: 1/4 | C: 1/8 | L: 2 | Bond: Resin | Grit Size: 150 (-0.5)
# 124^ | D: 3/16 | T: 1/4 | C: 3/16 | L: 2-1/2 | Bond: Resin | Grit Size: 150 (4.25)
# 125 | D: 1/4 | T: 1/8 | C: 1/8 | L: 2 | Bond: Resin | Grit Size: 150 (-1.25)
# 125-X | D: 7/32 | T: 1/4 | C: 1/8 | L: 2 | Bond: Resin | Grit Size: 150 (1.5)
# 125-XX | D: 7/32 | T: 1/4 | C: 3/16 | L: 2-1/2 | Bond: Resin | Grit Size: 150 (6)
# 126 | D: 1/4 | T: 1/4 | C: 1/8 | L: 2 | Bond: Resin | Grit Size: 150 (2.75)
# 127 | D: 1/4 | T: 1/4 | C: 3/16 | L: 2-1/2 | Bond: Resin | Grit Size: 150 (7)
# 128^ | D: 1/4 | T: 1/4 | C: 1/4 | L: 2-1/2 | Bond: Resin | Grit Size: 150 (12.75)
# 129 | D: 9/32 | T: 1/4 | C: 1/8 | L: 2 | Bond: Resin | Grit Size: 150 (3.75)
# 130 | D: 9/32 | T: 1/4 | C: 3/16 | L: 2-1/2 | Bond: Resin | Grit Size: 150 (8.5)
# 131 | D: 5/16 | T: 1/4 | C: 3/16 | L: 2-1/2 | Bond: Resin | Grit Size: 150 (17.75)
# 132 | D: 5/16 | T: 5/16 | C: 3/16 | L: 2-1/2 | Bond: Resin | Grit Size: 150 (22.5)
# 132-X | D: 5/16 | T: 5/16 | C: 1/4 | L: 2-1/2 | Bond: Resin | Grit Size: 150 (27)
# 133 | D: 3/8 | T: 1/8 | C: 3/16 | L: 2-1/2 | Bond: Resin | Grit Size: 150 (10.5)
# 133-X | D: 11/32 | T: 5/16 | C: 3/16 | L: 2-1/2 | Bond: Resin | Grit Size: 150 (22.5)
# 134 | D: 3/8 | T: 1/4 | C: 3/16 | L: 2-1/2 | Bond: Resin | Grit Size: 100 (16)
# 135 | D: 3/8 | T: 3/8 | C: 3/16 | L: 2-1/2 | Bond: Resin | Grit Size: 100 (20)
# 136 | D: 3/8 | T: 3/8 | C: 1/4 | L: 2-1/2 | Bond: Resin | Grit Size: 100 (25.25)
# 137 | D: 1/2 | T: 1/8 | C: 3/16 | L: 2-1/2 | Bond: Resin | Grit Size: 100 (20.25)
# 137-X | D: 7/16 | T: 3/8 | C: 1/4 | L: 2-1/2 | Bond: Resin | Grit Size: 100 (38)
# 138 | D: 1/2 | T: 1/4 | C: 3/16 | L: 2-1/2 | Bond: Resin | Grit Size: 100 (28.25)
# 139 | D: 1/2 | T: 3/8 | C: 1/4 | L: 2-1/2 | Bond: Resin | Grit Size: 100 (46.25)
# 140 | D: 1/2 | T: 1/2 | C: 1/4 | L: 2-1/2 | Bond: Resin | Grit Size: 100 (58.25)
# 141 | D: 5/8 | T: 1/4 | C: 1/4 | L: 2-1/2 | Bond: Resin | Grit Size: 100 (53)
# 141-X | D: 9/16 | T: 3/8 | C: 1/4 | L: 2-1/2 | Bond: Resin | Grit Size: 100 (60)
# 142 | D: 5/8 | T: 3/8 | C: 1/4 | L: 2-1/2 | Bond: Resin | Grit Size: 100 (59.25)
# 143 | D: 3/4 | T: 1/4 | C: 1/4 | L: 2-1/2 | Bond: Resin | Grit Size: 100 (72.25)
# 144 | D: 3/4 | T: 3/8 | C: 1/4 | L: 2-1/2 | Bond: Resin | Grit Size: 100 (92.5)
# 145 | D: 1 | T: 1/4 | C: 1/4 | L: 2-1/2 | Bond: Resin | Grit Size: 100 (107.75)
# 146 | D: 1 | T: 3/8 | C: 1/4 | L: 2-1/2 | Bond: Resin | Grit Size: 100 (100.75)
# 147 | D: 1 | T: 3/8 | C: 3/8 | L: 3 | Bond: Resin | Grit Size: 100 (157.25)